Mo Yan wins Nobel prize in literature 2012
Novelist, the first ever Chinese literature Nobel laureate, praised for 'hallucinatory realism'
The Swedish Academy, announcing his win this lunchtime, said that "with hallucinatory realism", Mo Yan "merges folktales, history and the contemporary". His win makes him the first Chinese writer to win the Nobel in its 111-year history: although Gao Xingjian won in 2000, and was born in

China

, he is now a French citizen; and although Pearl Buck took the prize in 1938, for "her rich and truly epic descriptions of peasant life in China and for her biographical masterpieces", she is an American author.
The Nobel goes to the writer "who shall have produced in the field of literature the most outstanding work in an ideal direction", with previous winners including Samuel Beckett, Doris Lessing and, last year, the Swedish poet Tomas Tranströmer.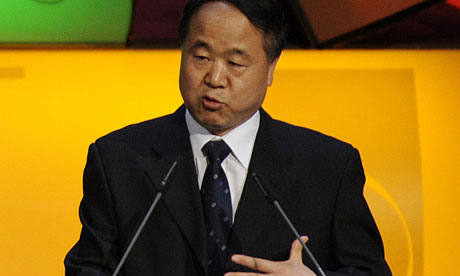 Mo Yan's writing, said head of the Swedish Academy Peter Englund this lunchtime, draws from his peasant background, and from the folktales he was told as a child. Leaving school at 12, the author went to work in the fields, eventually gaining an education in the army. He published his first book in 1981, but he first found literary success with Red Sorghum, a novel which was also made into

an internationally successful movie by Zhang Yimou

.
"He writes about the peasantry, about life in the countryside, about people struggling to survive, struggling for their dignity, sometimes winning but most of the time losing," said Englund. "The basis for his books was laid when as a child he listened to folktales. The description magical realism has been used about him, but I think that is belittling him – this isn't something he's picked up from Gabriel García Márquez, but something which is very much his own. With the supernatural going in to the ordinary, he's an extremely original narrator."
"I see parallels with works like William Vollmann's Europe Central, with its historical sweep (Red Sorghum) and trenchant criticism of monstrous behavior by those in power (The Garlic Ballads)," said Goldblatt. "And, of course, there are writers Mo seems to prefer, the modernist Faulkner, the magic-realist Garcia Marquez, and the Japanese
Oe Kenzaburo. And don't forget another "oldie": Rabelais, with his bawdy humour and scatological exuberances."
Goldblatt said that the author's satirical novel Jiuguo (

The Republic of Wine

) "may be the most technically innovative and sophisticated novel from China I've read", while his Shengsi pilao (Life and Death Are Wearing Me Out) is "a brilliant extended fable", and Tanxiangxing (Sandalwood Death) "is, as the author contends, musical in its beauty".
Red Sorghum

is made up of five interwoven stories, set over several decades during the 20th century, touching on topics including the Japanese occupation and the difficult lives of poor farm workers. Mo Yan's 1996 novel Fengru feitun, translated into English as

Big Breasts and Wide Hips

in 2004, portrays 20th century China through the life of a single family, starting with the story of Xuan'er, six months old in 1900 when she is abandoned in a vat of flour. "By the time she has blossomed into the province's number-one golden lotus girl, her bound feet are no longer in vogue and the best her aunt can do is marry her to a blacksmith in exchange for his mule. But this is no Wild Swans - from here, Mo Yan, author of Red Sorghum, steers his provocative story towards a masculine perspective, as he follows one family through China's war with Japan to the cultural revolution and beyond,"

said the Guardian in its review

, which called the book an "astonishing" novel. "Blending bawdy humour, gory violence and pungent imagery, Mo Yan paints a unique portrait of China's 20th century, and cleverly dramatises the unsustainable predicament of a society fixated on bearing boys."
The author's most recent novel, Wa, is the story of the consequences of the single-child policy implemented in China.
Nicky Harman, a Chinese translator and lecturer at Imperial College, London, hailed Mo Yan's win as "amazing" news. "He's a great writer and will now be better known. That's good news for all Chinese writers, because it will bring English readers a bit closer," she said. "I'm sure they will be deliriously happy in China. He's very well thought of there."
Informing Mo Yan – a pen name meaning "don't speak" – of his win today, Englund said the author, who was at the home in China where he lives with his 90-year-old father – was "overjoyed and scared".